RV Winterization
It's crucial that you prepare your RV before cold weather sets in. The winterization process protects your RV's plumbing and other components from freezing temperatures and helps avoid costly repairs.
---
FREE Winterization
For Bish's Diamond Club Members
When you purchase your RV from Bish's, you get FREE basic annual winterizations as a Diamond Club lifetime benefit.* Our annual Winterization Days is one way we like to thank our customers for purchasing from Bish's RV!
*Basic RV Winterization. Does not include residential refrigerators, icemaker, dishwasher, or washer/dryer. Please make an appointment if you have any of these appliances.
Annual RV Winterization
During the winterization service, we blow out the lines and fill P-traps with antifreeze, perform a visual inspection, including the roof, all seals, and wheel bearings, and make recommendations of any suggested repairs prior to next camping season.
Quick Tip
There may be RV parts on special during Winterization Days, so be sure to take advantage! Past specials have included jack stands, water filters, and hoses.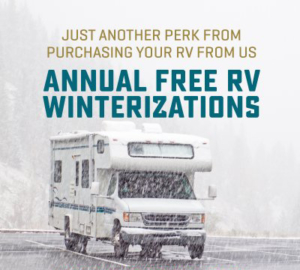 What to Expect
Tips & Tasks Before You Arrive
During our annual Winterizing Days event, no appointment is necessary (with exception of an RV with a residential refrigerator, icemaker, dishwasher, or washer/dryer). Be prepared to stay with your RV during the process, which can take up to 30 minutes, depending on the length of the line.
To make the RV winterization process go as quickly and efficiently as possible, we have a few to follow prior to your arrival.
Must-Do:
Empty the grey and black tanks
Suggested:
Open the low-point drains to drain out excess moisture
Confirm that the RV batteries are charged
If the temperatures are cold, please run your furnace on the night before and/or day of your winterization to warm up the plumbing
At a minimum, be sure you have enough propane to power the furnace during the winterization
2022 Free RV Winterization Dates